For Individuals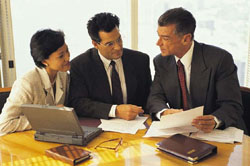 We offer a wide range of insurance and financial services for individuals. We assist our clients' in establishing financial and estate planning strategies that will help them find solutions to their tax, investment and asset accumulation needs while managing risk
We develop customized financial program walking you through a step-by-step process to help make you feel more confident in your decisions.
Once your goals have been established, we pay great attention to individially customized strategies to suit your vision and objectives.  We can help you execute a sound financial program utilizing the following products and services:


Investment products
Annuities (fixed, immediate, variable, indexed)
Life insurance including term, permanent or indexed
Disability insurance
Individual health insurance
Business continuation planning
Retirement planning
Estate planning strategies
Health care reform opportunities
Long term care insurance and planning
College funding strategies including 529 plans
Medigap, Medicare Advantage and prescription (Part D) plans
Tax minimization strategies


Most importantly, we'll monitor your plan and meet with you regularly or on demand to ensure we're meeting our goals and expectations.